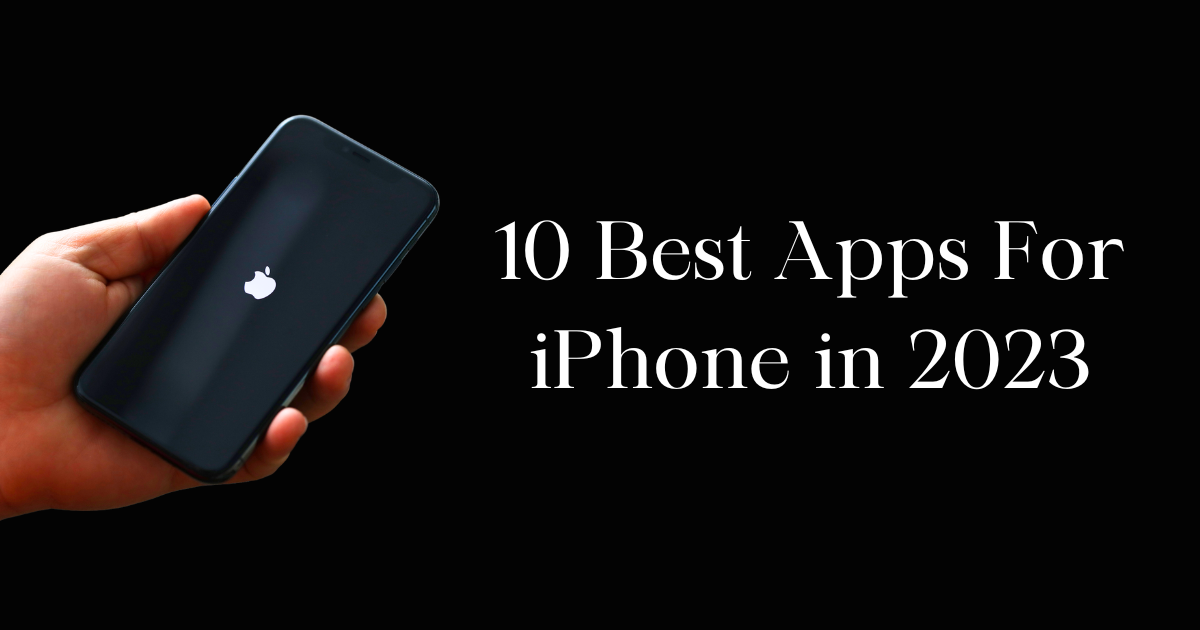 The iPhone is not just for communication anymore. With the millions of apps available on the App Store, you can transform your iPhone into a fitness tracker, language learning tool, or even a virtual encyclopedia.
But with so many apps to choose from, finding the best ones can be a daunting task. That's why we've compiled a list of the top 10 apps for iPhone, covering a range of categories from communication to education and information.
Whether you're looking for a messaging app, email client, or language learning tool, we've got you covered.
Want To Use The Best Video Editor on Your iPhone?
Communication and Messaging Apps
| App | Features |
| --- | --- |
| Facebook Messenger | Audio and video calling, AR masks and stickers |
| Gmail | Integration with other services, undo sending |
| Kik | Anonymous messaging with usernames |
| Microsoft Outlook | Supports multiple email accounts, focused inbox |
| Skype | Free calls and chats, option to purchase credit |
| Snapchat | Sharing ephemeral visuals with friends |
| Spark Mail | Email categorization, customizable swipe actions |
| Viber | Seamless transfer of calls, end-to-end encryption |
Staying connected has never been easier with these top communication and messaging apps for your iPhone. Whether you need to message a friend, make a video call, or manage your emails, these apps have got you covered.
Facebook Messenger
Facebook Messenger is a versatile messaging app that offers audio and video calling, along with fun features like AR masks and stickers. Stay connected with friends and family, no matter where they are.
Gmail
Gmail is a powerful email app that integrates with other services and offers a unique feature – the ability to undo sending an email within five seconds. Say goodbye to those accidental send-aways!
Kik
If you prefer anonymous messaging, Kik is the app for you. Instead of using your phone number, you can create a username and start chatting with others. Keep your privacy intact while staying connected.
Microsoft Outlook
Manage all your email accounts in one place with Microsoft Outlook. This app supports multiple email accounts and includes a focused inbox, so you can stay organized and prioritize your important messages.
Skype
Skype is a classic communication app that allows for free calls and chats with other Skype users. Additionally, you can purchase credit to make calls to phone numbers, making it convenient for both personal and business use.
Snapchat
For sharing ephemeral visuals with friends, Snapchat is the go-to app. Snap pictures, share videos and add fun filters to spice up your conversations. Don't worry, the content disappears after being viewed!
Spark Mail
Stay on top of your email game with Spark Mail. This app categorizes your emails and offers customizable swipe actions for quick management. Never miss an important message again.
Viber
Viber allows for seamless transfer of calls between your mobile and desktop devices. It also includes end-to-end encryption for privacy, ensuring your conversations stay confidential.
Education and Information Apps
Expand your knowledge and learn new skills with these education and information apps. Whether you're a student looking to ace your exams or someone who simply enjoys learning, these apps have got you covered.
From language learning tools to virtual encyclopedias, there's something for everyone.
Language Learning Apps
If you've always wanted to learn a new language, these apps are perfect for you. Duolingo offers free language lessons in over 35 languages, making it easy and fun to learn at your own pace.
Rosetta Stone is another popular choice, offering a mobile app that mirrors the lessons available online. With interactive exercises and real-time feedback, you'll be speaking a new language in no time.
Reference Apps
Looking for quick information on a specific topic? These reference apps have you covered. Bing provides an alternative to Google with a beautiful design and local guidance suggestions.
Flipboard curates content from social networks and web partners, turning it into digital magazine-like pages. And if you're interested in space exploration, NASA's flagship app aggregates a wealth of news, images, video, and information about space agency activities.
| App | Category | Features |
| --- | --- | --- |
| The ASL App | Education | Learn American Sign Language through videos |
| Chegg eReader | Education | Rent, buy, and sell textbooks |
| Elevate | Education | Training in writing, listening, speaking, reading, and math |
Whether you want to improve your language skills, expand your knowledge, or simply have quick access to information, these education and information apps will be a valuable addition to your iPhone.
Stay tuned for the next section where we'll explore the best gaming apps for iPhone.
Gaming Apps
Are you a gaming enthusiast looking for the best gaming apps for your iPhone? Look no further! We've compiled a list of top gaming apps that offer exciting gameplay, stunning graphics, and endless entertainment.
Whether you're into action-packed adventures, mind-bending puzzles, or immersive role-playing games, there's something for everyone. Let's dive into the world of gaming apps and discover the ones that will keep you hooked for hours.
Action Games
If you're craving adrenaline-pumping action, these gaming apps are perfect for you. One of the most popular action games on the App Store is "PUBG Mobile," where you battle against 99 other players in a thrilling last-man-standing showdown.
Another must-try game is "Fortnite," which combines intense combat, strategic building, and a vibrant virtual world. For those who enjoy team-based action, "Call of Duty: Mobile" offers multiplayer battles and iconic maps from the beloved franchise.
Puzzle Games
If you prefer brain-teasing puzzles and captivating mysteries, these gaming apps are designed to challenge your intellect. "Monument Valley" offers a visually stunning journey through impossible architecture and optical illusions.
In "The Room," you'll unravel intricate puzzles and unlock hidden secrets in a beautifully crafted 3D world. For fans of cryptic storytelling and complex puzzles, "The Witness" will test your analytical skills and take you on a mesmerizing exploration of an enigmatic island.
Role-playing games (RPG)
Immerse yourself in epic adventures and captivating narratives with these RPG gaming apps. "Elder Scrolls: Blades" allows you to create your own character, explore dungeons, and build your town in the iconic Elder Scrolls universe.
"Genshin Impact" offers a vast open world to explore, with beautiful landscapes, diverse characters, and thrilling combat. If you're a fan of classic RPGs, "Stardew Valley" lets you build a farm, interact with villagers, and embark on quests in a charming pixelated world.
| Game | Genre | Rating |
| --- | --- | --- |
| PUBG Mobile | Action | 4.5/5 |
| Fortnite | Action | 4/5 |
| Call of Duty: Mobile | Action | 4.2/5 |
| Monument Valley | Puzzle | 4.7/5 |
| The Room | Puzzle | 4.6/5 |
| The Witness | Puzzle | 4.3/5 |
| Elder Scrolls: Blades | RPG | 4.4/5 |
| Genshin Impact | RPG | 4.8/5 |
| Stardew Valley | RPG | 4.9/5 |
Food Apps
When it comes to food, convenience is key. These food apps are designed to save you time and satisfy your hunger with just a few taps on your iPhone. Whether you're looking for grocery delivery or a quick meal from your favorite restaurant, these apps have got you covered.
Food Delivery Apps
If you're craving a delicious meal but don't want to leave the comfort of your home, food delivery apps are a game-changer. Two popular options are Instacart and DoorDash.
Instacart offers a wide range of grocery items that can be delivered right to your doorstep in as fast as two hours. With a user-friendly interface and a vast selection of products, it's the perfect solution for busy individuals or those who prefer to avoid crowded supermarkets.
Meanwhile, DoorDash is the largest food delivery app in the U.S., partnering with over 310,000 restaurants and stores. From your favorite local eateries to popular chain restaurants, DoorDash has an extensive range of options to satisfy any craving. With quick delivery and real-time order tracking, you'll never have to worry about missing out on a delicious meal.
Grocery Delivery Apps
| App | Description |
| --- | --- |
| Instacart | Delivers groceries to your doorstep in as fast as two hours. |
| DoorDash | Offers delivery from over 310,000 restaurants and stores. |
| Whisk | Helps you find and organize recipes from all over the internet. |
Instacart, as mentioned earlier, is a great option for getting your groceries delivered to your doorstep. However, if you're looking for more variety and options, consider using Whisk.
Whisk is a powerful app that helps you find and organize recipes from all over the internet. You can easily create shopping lists and even have the ingredients delivered straight to your door. With Whisk, meal planning, and shopping have never been easier.
Going Out and Travel Apps
Whether you're exploring your own city or traveling abroad, having the right apps on your iPhone can greatly enhance your experience.
From mapping apps that provide real-time updates on traffic conditions to language learning tools that help you communicate with locals, these travel apps are a must-have for any adventurer.
Mapping Apps
When it comes to getting around, Google Maps is the go-to app for many. With its accurate directions, real-time traffic updates, and public transit information, you'll never get lost again.
Whether you're driving, walking, or taking public transportation, Google Maps will help you reach your destination efficiently.
Language Learning Tools
Traveling to a foreign country can be challenging if you don't speak the local language. That's where language learning apps like Duolingo come in handy.
With interactive lessons and a variety of languages to choose from, you can quickly pick up the basics and communicate with locals during your travels.
Trip Planning and Reviews
Planning a trip can be overwhelming, but with travel apps like TripAdvisor, you can easily find inspiration and recommendations for attractions, restaurants, and accommodations. Read reviews from fellow travelers to ensure you make the most of your trip and avoid any tourist traps.
Whether you need help navigating unfamiliar streets, learning a few key phrases, or finding the best local spots, these travel apps are essential companions for any globetrotter.
Health and Fitness Apps
In today's fast-paced world, taking care of your health and fitness is more important than ever. Luckily, there are a plethora of health and fitness apps available for your iPhone that can help you stay on track and achieve your wellness goals. From tracking your sleep patterns to providing brain exercises, these apps are designed to make it easy to prioritize your well-being.
One standout app is Pillow, which tracks your sleep stages and provides valuable insights into your nightly rest. It even wakes you up in your lightest stage of sleep, ensuring you start your day feeling refreshed.
Pillow records snoring and sleep apnea, helping you identify potential issues and seek appropriate treatment.
Another app worth mentioning is Impulse. This app offers a variety of exercises to keep your brain sharp and improve memory and focus. With its interactive features, you can challenge yourself and boost your cognitive abilities while on the go.
With these health and fitness apps at your fingertips, you can take control of your well-being and make positive changes in your life. Whether you're focused on improving your sleep or enhancing your mental acuity, these apps provide the tools and support you need to lead a healthier lifestyle.